Primary Language Curriculum
As you are all aware we are implementing the new Primary Language Curriculum in the areas of English and Gaeilge with all the children from Junior Infants to Sixth Class. Click on the link below to access the Information Leaflet for Parents and to find out further information about the new Primary Language Curriculum.
https://www.ncca.ie/…/40…/info-sheet-for-parents-English.pdf
First and Second Class have had such a busy few weeks. They deserved the long awaited mid term break after all their hard work!
Read about some of the highlights from 1st and 2nd class below.......
There was great excitement in 1st and 2nd class with the build up to Halloween! The children looked incredible all dressed up - some of the children were up VERY early in the morning to get their face paint perfected. Well done to all the parents/siblings who helped them get ready. All the children took part in a Halloween-themed game of musical statues on their last day before mid term. They really got into character and it was very difficult to catch anyone out!
The children have also been taking part in Wellness Wednesdays. To say they were excited with a night off homework is an understatement. The children really enjoyed spending extra time chatting to their friends and playing board games in class.
The children are currently taking part in football skills every Monday with Cara. They are having lots of fun learning new skills and playing lots of fun games. They will continue lessons with Cara for the next few weeks.
Have a look at the array of photos below to see if you can spot your little one having oodles of fun!
We are hoping to have lots of fun as we begin to start preparing for the festive season ahead. Falalalala... 😉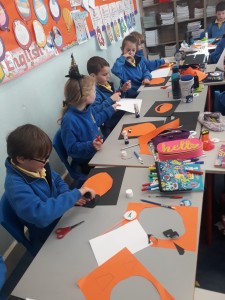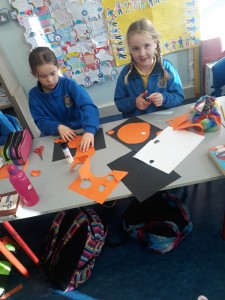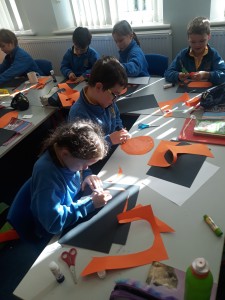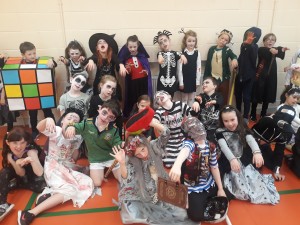 Getting into the Halloween spirit! The children had great fun and giggles creating their Silly Face Pumpkins.
They all turned out brilliant. Very creative 1st and 2nd class- well done!