2022/2023 - Partnerships
Slogan for this year 2022/2023
DON'T DELAY, GET OUT AND PLAY!
The children worked collaboratively to come up with a slogan this year. We decided to hold a whole school competition for the Active Flag slogan. I am sure everyone agrees that the above slogan is fantastic and says it how it is.
We in Kilbride love to have any opportunities to get out of our seats and keep moving. We are an active school and proud to say we are.
This is our Active Flag school committee of 2022/2023. They are raring to go! They will act as playground leaders, class reps, equipment monitors and school line leaders as well as the active bell leaders. As we are a small school, the committee will be supported in their roles by all the other children in the school, as much as possible.
Cycle Safety School Programme autumn 2022
The children from 4th - 6th class took part in an 8-week Cycle Safety School Programme at the beginning of the year. It was great to hear and see all the children discuss bike safety and display it when they took to the roads on their own bikes. As roads get busier and busier by the day, this programme couldn't have happened at a better time to help raise cycle safety awareness to the children in Kilbride NS.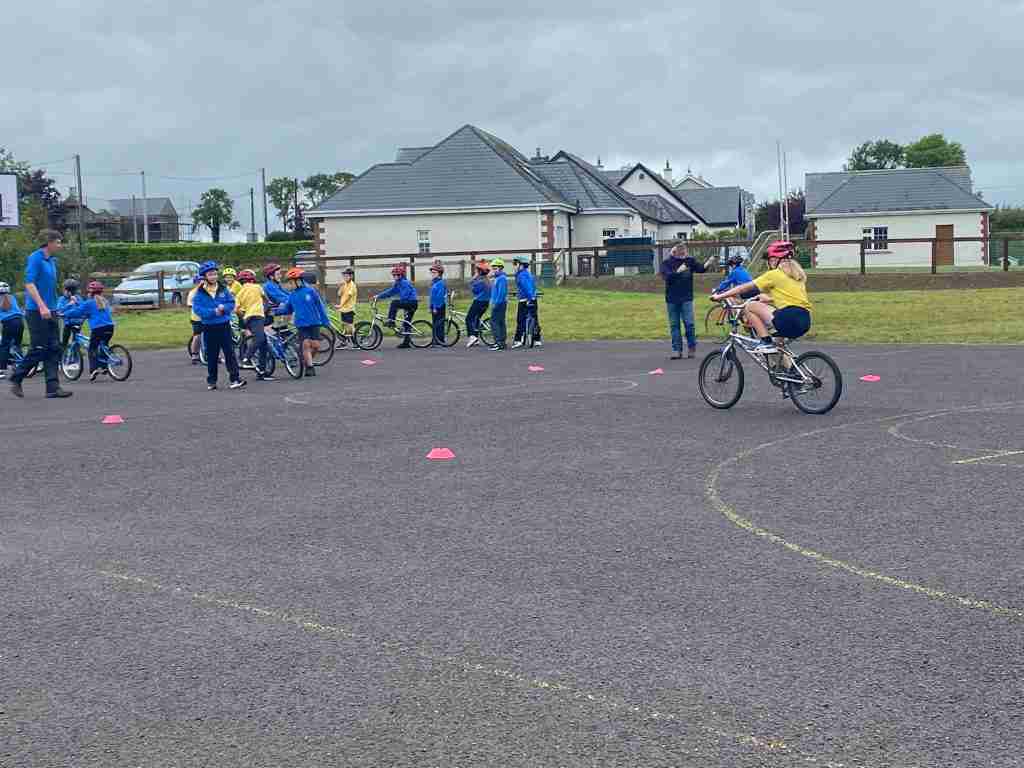 Drumming and movement workshops by Dave March/April 2023
The children in Kilbride NS were so excited to invite Dave back to our school to take part in some drumming & movement workshops with all the classes. Some of the classes were lucky to have been taught drumming by Dave before the Covid days. All of the children have been having so much fun creating new beats and dancing to the rhythm of Dave's beats.
What clubs are you in?
Survey completed in March 2023
Kilbride National School Stats
Hurling Dunderry Other Club
Junior Infants 9 5
Senior Infants 1 4
First Class 6 2
Second Class 0 0
Third Class 6 3
Fourth Class 2 1
Fifth Class 2 2
Sixth Class 5 0
Camogie Dunderry Other Club
Junior Infants 2 1
Senior Infants 3 5
First Class 2 1
Second Class 1 1
Third Class 5 0
Fourth Class 1 1
Fifth Class 4 3
Sixth Class 0 0
2020-2021 Let's get active!
Meath Local Sports Partnership – 'Walktober Challenge'
Meath LSP and Meath County Council invite you to take part in the FREE 'Walktober' Challenge to encourage you to stick on your shoes and get walking! This will include tips & tricks to help you achieve these targets while also giving you a monthly plan to follow.
The challenge is FREE to enter. The challenges can be completed individually or as a family. It is a great way to get all the family out and about to explore the walks Meath has to offer. The challenges are designed to increase physical activity in an engaging and enjoyable way.
The 30km challenge is perfect for families who are new to walking. There are tips and tricks to help you reach the goal of 30km during the month of October. The 80km challenge is ideal for families who are experienced in walking and want to challenge themselves.
When registered you will receive
Free walking challenge calendar, 30km or 80km (hardcopy or digital)
Free snood per participant
Deadline for registration is 29th September (hardcopy calendar) or 1st October (digital calendar).
To register please see: https://eventmaster.ie/event/rLoZCPmS9y
Athletics - Monday, 22nd November to Thursday, 25th November 2021
Third and Fourth Class are really enjoying all the athletic activities takin place this week. They are learning lots of new skills under the strand of athletics. Thank you to the coaches this week. Third and Fourth Class are having a really good time and look forward to 11:30am every day!
Athletics training with Meath Athletics
Senior infants enjoyed participating in athletics training this week. They learned lots of new skills. A huge thank you to Joan and Johnny from Meath Athletics for coming into our school this week.
Junior Infants
We had lots of fun partnering with Meath Athletics for some amazing challenges.
Joan and Johnny were so much fun and we cannot wait to see them again soon to learn even more new skills.