2022-2023
PE Timetable for 2022/2023
PE TIMETABLE KILBRIDE NATIONAL SCHOOL 2022-2023
| | | | | | | |
| --- | --- | --- | --- | --- | --- | --- |
| Junior Infants – Ms Mullen | Senior Infants – Ms Rooney | 1st/2nd Class - Ms O' Donnell | 2nd/3rd Class – Mr Peyton | 4th/5th Class – Mrs O' Beirne | 5th/6th Class- Mrs Mallee | Rang Cairdre Nua |
| Wednesday 1.00-1.30 Thursday 1.00- 1.30 | Wednesday 10:00- 11.00 | Wednesday 11:30 – 12.30 | Thursday 1:00 – 2:00 | Thursday 11.30- 12.30 | Thursday 10:00- 11.00 | Everyday @11.30 |
Promoting a healthy body and mind in Kilbride NS
In Kilbride NS, we as teachers are always promoting regular movement and exercise as we recognise the importance of movement for children to maintain concentration and focus in their school day. We are very aware that children need ample exercise on a daily basis. The recommended amount of exercise for a child is 60 minutes per day. We pride ourselves in our school as we actively work towards yet another Active School Flag. The children in the school can be very proud of themselves for taking part in many of the sporting activities that take place throughout the school year.
Terrific Thursdays
As a school, we decided that all children should have the opportunity to have a break from written homework on a Thursday. We promote Thursdays as our 'Terrific Thursdays', to allow the children more time for movement, exercise and getting outside. The children happily welcome Terrific Thursday every week - a break from all written homework
Aquatics forms part of our PE Programme
During the summer month of June the children will learn all about water safety. We know how important it is to be safe in water as the days get longer and warmer and children want to play and swim in water. The children of Kilbride NS will take part in the PAWS programme. As the summer holidays are approaching there is no better time for the children to be reminded/taught about how to stay safe in water.
https://www.teachpaws.ie/
LEARN SKILLS THAT SAVE LIVES, BECOME A PAWS HERO
Water Safety Ireland's PAWS (Primary Aquatics Water Safety) outlines the essential life-saving guidelines that every child needs to know.

Written and designed for all age groups, with beautiful illustrations, a wealth of tips and advice, and all sorts of interactive games and puzzles to reinforce the lessons learned, PAWS offers simple common sense on how we can be safe around our waterways.
English and Irish digital lesson books are available with interactive puzzles to match. The lessons take just an hour or two and are completely FREE.
When each child has finished, these newfound skills make them a PAWS HERO.
Dance forms part of our PE Programme
There has been lots of opportunity for exploring, creating and performing dances during this school year in Kilbride NS, including dancing routines in the Christmas plays and learning the Haka dance as a whole school activity for Seachtain na Gaeilge. The children also wholeheartedly enjoyed the drumming workshops this year when they were allowed to explore dance creatively during the workshops.
Gymnastics forms part of our PE Programme
The children in Senior Infants explored various ways of travelling using their hands and feet. The children also explored various ways of jumping. See the photos below with the children displaying their fantastic skills which they learned.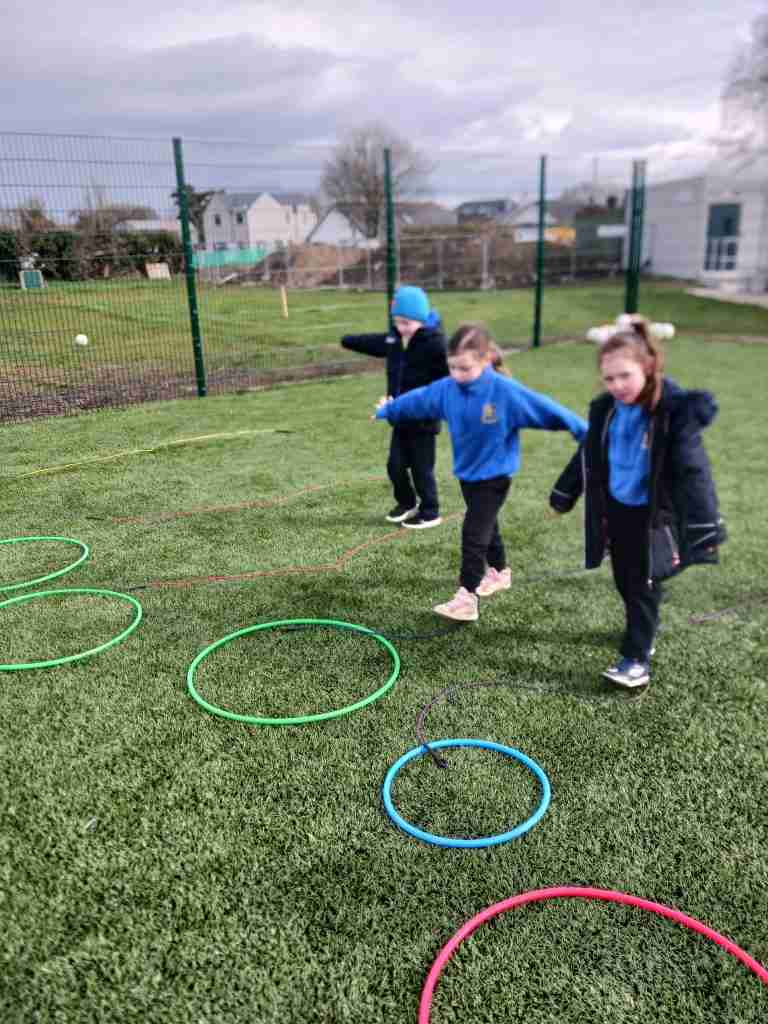 Games form part of our PE Curriculum
The Games strand is always a firm favourite for the children in Kilbride NS. The strand provides great opportunities for the children. They get to learn rules of a new game. The strand also allows children to demonstrate their own skills learned in a particular game, especially if they play it outside of school hours and share their knowledge with others. Look at the fun the children are having during some games in PE.
Athletics form part of our PE Curriculum
Athletics was the priority strand for this school year 2022/2023.
Strand units - Running, jumping and throwing
Children were practicing their throwing skills. The children particularly loved throwing the ball as high as they could, clap and catch. They were very competitive and loved seeing their throwing skills improve with lots of practice.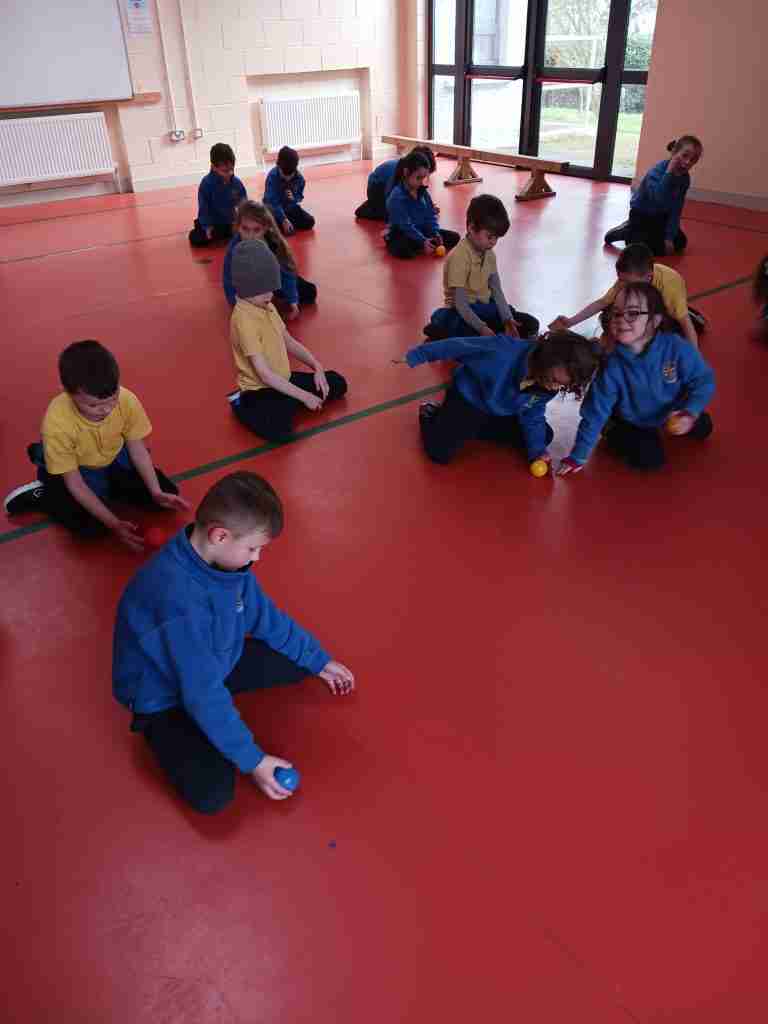 Outdoor and Adventure Activities form part of our PE Curriculum
The children in Kilbride NS were so excited to see the unveiling of our new Active Walkway on the school grounds. All the classes in the school got to enjoy the walkway throughout the week. With the sun beaming down on us all week, we had ample opportunities to get outside and make use of the walkway. We all look forward to using the resources for the walkway throughout the coming months across all of the subjects. The walkway is a great addition to the school grounds. The children integrated their PE warm- up with the active walkway, as you can see in the photos below. For example, the children had to SKIP from Homebase to #1, run from #1 to #2 etc.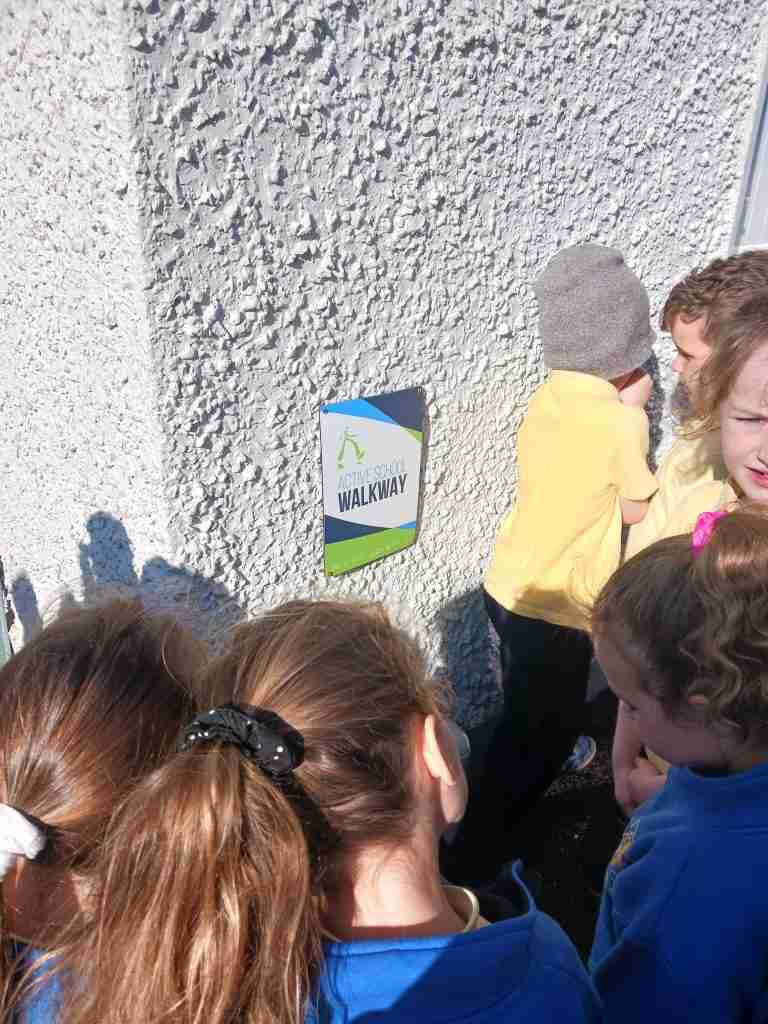 Organised and Labelled equipment
Lots of variety in our PE shed. We added new hula hoops, table tennis sets and noodles to our equipment this year!
Fundamental movement skills 1-4
The 4 FMS we have focussed on this year are skipping, walking, jumping for distance and throwing
FMS 1 -Jumping for Distance
FMS 2 - Walking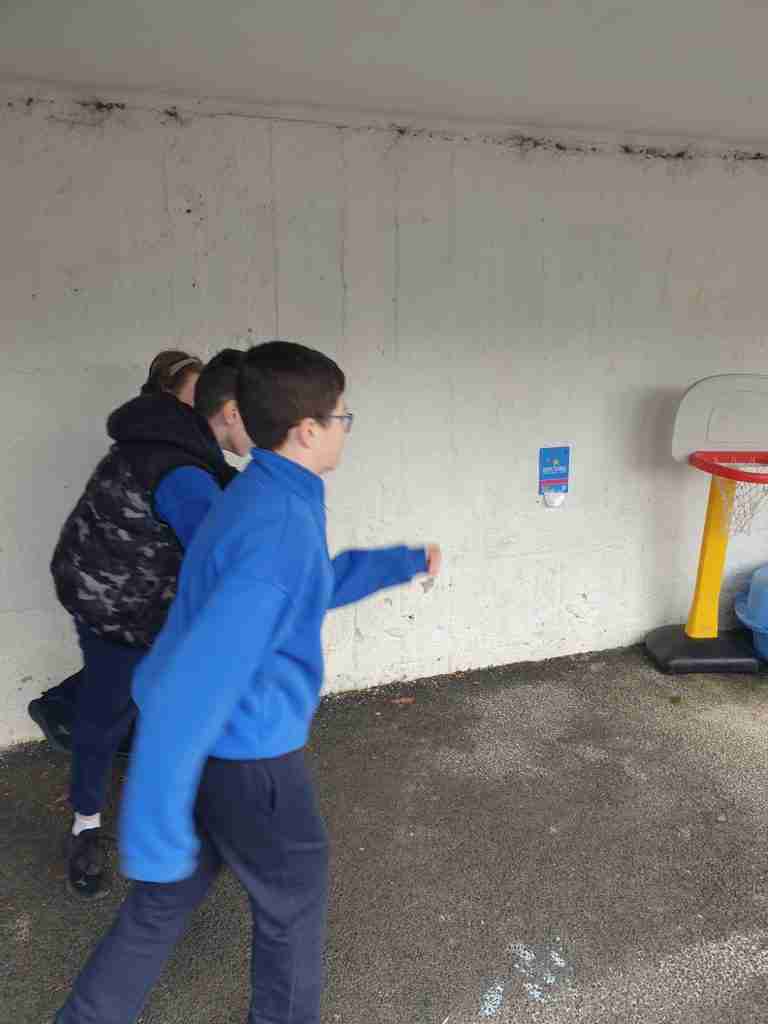 FMS 3 -Skipping (Skipping workshop in June will allow for all the children to learn some more skipping skills)
FMS 4 - Throwing (photos above)
Athletics - Cross Country Trials - Friday, 11th November 2022
Cross Country trials took place in Kilbride National School this morning with Fourth, Fifth and Sixth Class. Well done to all the boys and girls for completing the trials! Congratulations to all the boys and girls who qualified to represent Kilbride National School at the Cross Country on 25th November 2022. Well done to all everyone today!
2021-2022 PE
Third and Fourth Class - Athletics - Thursday, 10th March 2022
Third and Fourth Class had a great time this morning practicing their athletic skills. We played a game of Rats and Rabbit and this helped them with their reaction speeds. They also practiced running over a distance building from 30 seconds up to two minutes 🏃‍♀️ 🏃‍♂️ They practiced different types of relays - running, walking and skipping. And finally, they practiced their long jumps from standing and long jumps from approach! Well done Third and Fourth Class.
Third and Fourth Class Soccer Skills - 27th January 2022
The children in Third and Fourth Class were eager to get practicing their soccer skills today during PE in light of the upcoming soccer tournament that will be taking place in Kilbride National School. The boys and girls practiced their dribbling skills and their passing skills and then we played a game of soccer. They all really enjoyed PE today and had a lot of fun!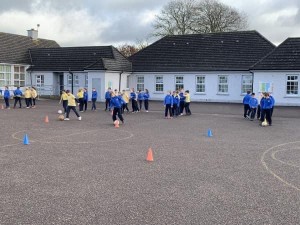 Having fun with 'Fit4Class'
We are really enjoying getting fit with our new athletics programme 'Fit4Class' here in Kilbride.