Junior Infants
Games
Sending, receiving and travelling
Creating and playing games
Understanding and appreciation of games
Junior Infants
Athletics
Running (walking, jogging, sprinting, relays, hurdling)
Jumping
Throwing
Understand and appreciation of Athletics
Third and Fourth Class - Athletics - Thursday, 10th March 2022
Third and Fourth Class had a great time this morning practicing their athletic skills. We played a game of Rats and Rabbit and this helped them with their reaction speeds. They also practiced running over a distance building from 30 seconds up to two minutes 🏃‍♀️ 🏃‍♂️ They practiced different types of relays - running, walking and skipping. And finally, they practiced their long jumps from standing and long jumps from approach! Well done Third and Fourth Class.
Third and Fourth Class Soccer Skills - 27th January 2022
The children in Third and Fourth Class were eager to get practicing their soccer skills today during PE in light of the upcoming soccer tournament that will be taking place in Kilbride National School. The boys and girls practiced their dribbling skills and their passing skills and then we played a game of soccer. They all really enjoyed PE today and had a lot of fun!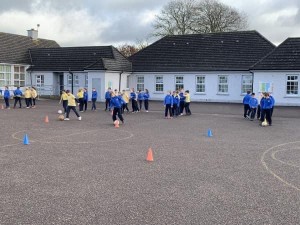 Having fun with 'Fit4Class'
We are really enjoying getting fit with our new athletics programme 'Fit4Class' here in Kilbride.
Athletics - Cross Country Trials - Friday, 11th November 2022
Cross Country trials took place in Kilbride National School this morning with Fourth, Fifth and Sixth Class. Well done to all the boys and girls for completing the trials! Congratulations to all the boys and girls who qualified to represent Kilbride National School at the Cross Country on 25th November 2022. Well done to all everyone today!