Our Wonderful Junior Infants
26 super boys and girls started 'big school' in Kilbride National School this year. They are looking forward to the year ahead - lots of learning and fun. Take a look at their lovely smiles on their first day in Junior Infants.
Fine motor fun
We have been busy doing lots of fine motor activities in Junior Infants during September.
We have been using playdoh, threading, building, cutting, pinching, making jigsaws, writing and lots more.
Take a look at some photos..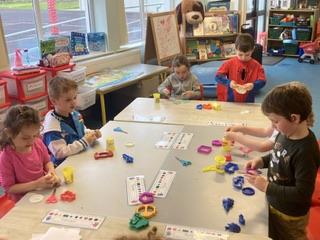 Mark making
The children in Junior Infants are working hard at their writing!
We have been mark making using pencils, markers, chalk and cotton buds with paint.
The boys and girls even practised drawing shapes and writing their name on the yard using chalk.. it looked great until the rain washed it all away!!
Maths
We love maths!
Take a look at some of the great sorting and matching activities the boys and girls were doing.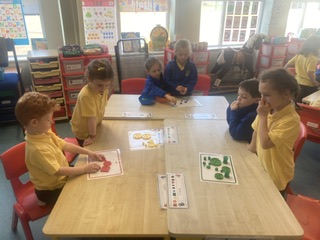 Enjoying the sunshine
We brought our learning outside to make the best of the sunny days
Humpty Dumpty
The kind boys and girls in Junior Infants put poor Humpty together again!
Free play
The children enjoy free play time in the classroom at the end of the day.
They enjoy playing with the kitchen, train set, farm, cars, lego, playdoh, doll house and sand.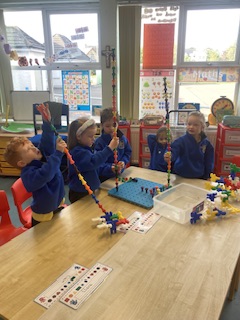 Rainy days
When it's raining and the children can't go outside at lunchtime, we like to have a run around in the hall and play some games together!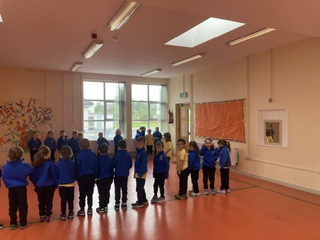 Ted's adventures
Ted is our newest student in Junior Infants!
Ted loves adventures. Each Friday he will go home with a little boy/ girl and spend the weekend with them. He then returns to school on Monday, ready for a busy week of learning.