Ms. O'Donnell

Hello everyone and welcome to First and Second Class. Have a look at some of the fantastic work the girls and boys have been doing recently.
First Holy Communion - 7th May 2023
Well done to the girls and boys in Second Class who made their First Holy Communion in Kilbride on Saturday. It was lovely to celebrate with them and their families. We are very proud of each and every one of them.
A robot visitor! 22nd March 2023
We are currently doing a project about robots. We have been learning about the many different uses of robotics. The class were excited to meet our new robot friend - Mio the Robot! We have been learning how to program Mio, and how to use the robot's sensors to move it in different directions.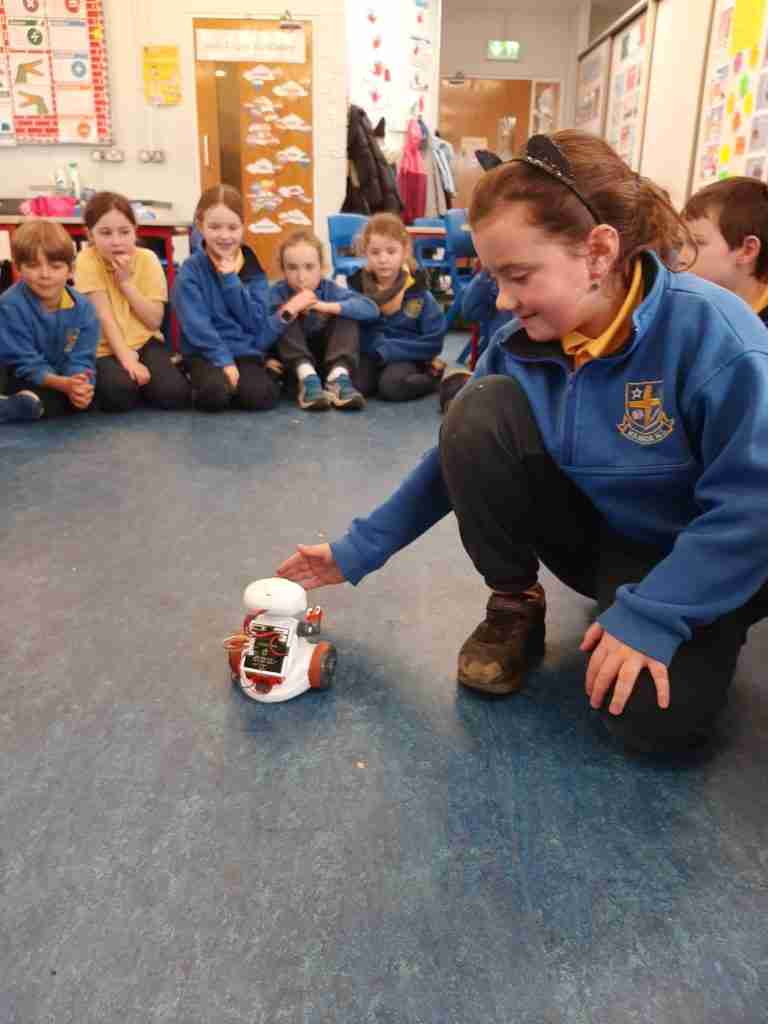 St Patrick's Day 'Green Day' Wednesday 15th March 2023
The children really enjoyed our activities to celebrate St Patrick's Day!
Skype a Scientist - 8th March 2023
The children were fascinated by our conversation with scientist Dr. Nicola Bordin, who spoke to us from his office at University College London. During a lively, interactive Zoom meeting, Dr Bordin taught the children about cells, bacteria, DNA and viruses. We learnt many interesting facts, such as the fact that sheep can catch Covid 19!
March 2023 - Starry Night
We have been learning about European artists as part of the Blue Star Project. We studied the painting Starry Night by VIncent Van Gogh and created our own starry night pictures using pastels.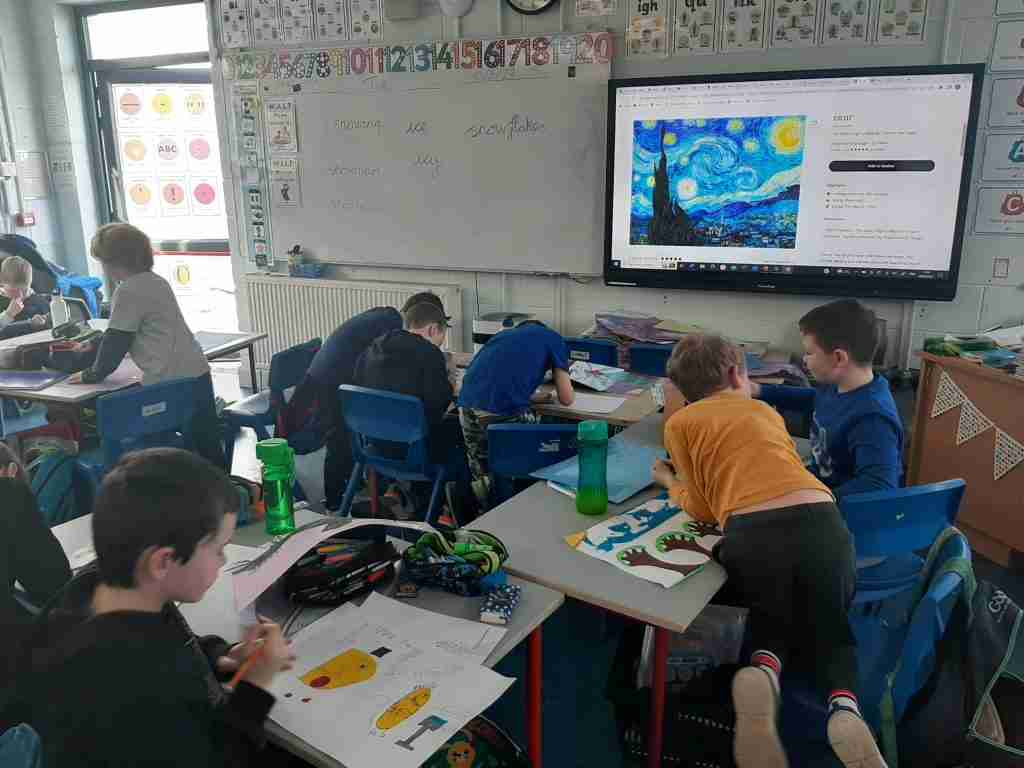 First Penance - Tuesday, 28th February 2023
Many congratulations to our children in Second Class who are celebrating a very important sacrament today. The children are receiving the Sacrament of Penance. This is a very special occasion for our children and I know they have been working very hard at preparing for this very special day in our school. Many thanks to our teachers and parents who helped to prepare Aurora, Lila, Isabelle, Rebecca, Emma-Jane, Pearse, Daniel, Alex, Oisín, Darragh and Jayden for today's very special occasion. Many thanks to Fr.Horneck for coming to our school today to celebrate this sacrament today.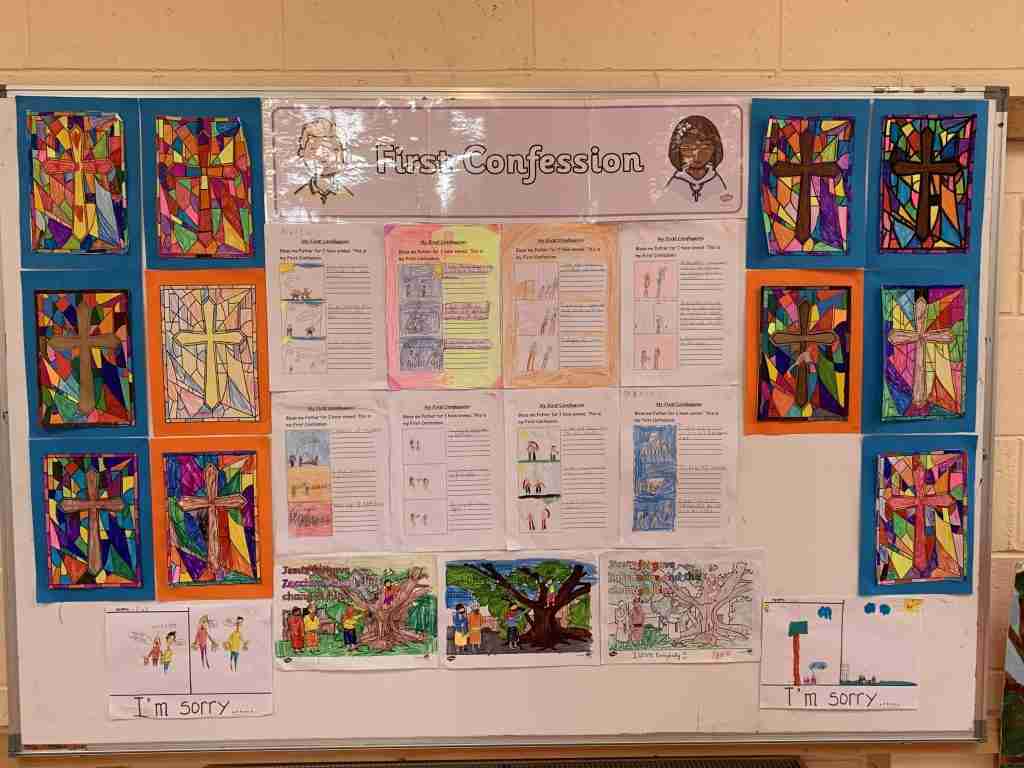 February 2023 - Drumming!
The children in 1st and 2nd class are becoming great drummers!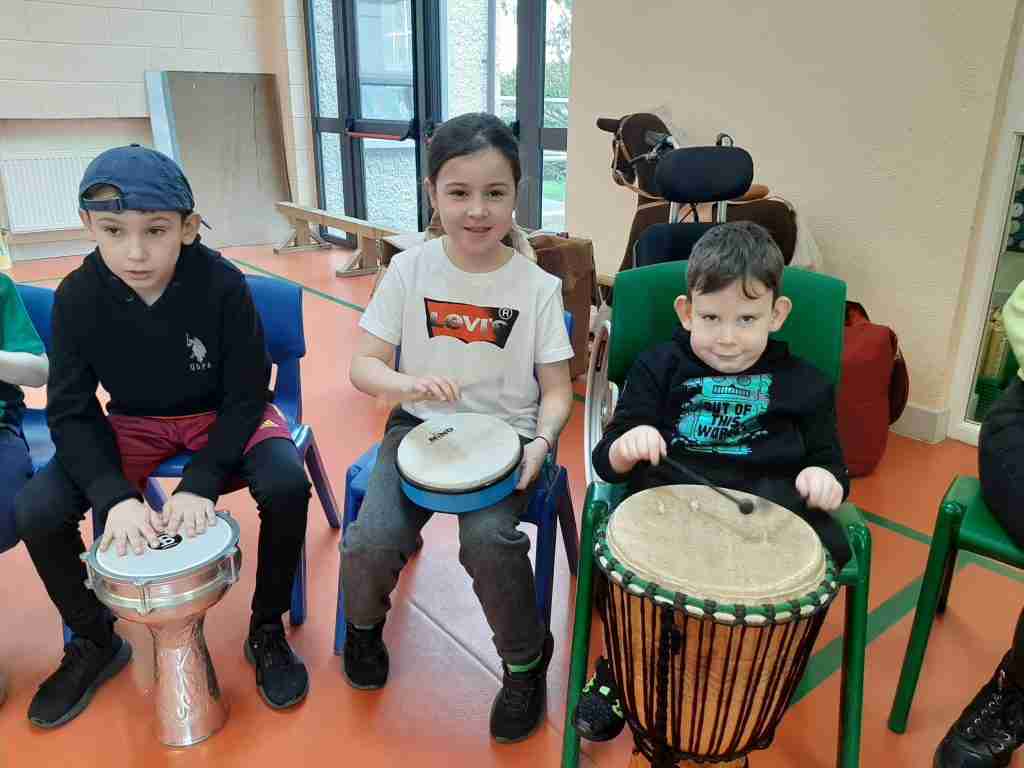 February 2023 - Spring Art!
The children have been learning about different Spring traditions around the world. We learnt about the Japanese festival of Sakura - the Cherry Blossom Festival. Children created their own wonderful cherry blossom paintings.
Drumming with Dave!
The children really enjoyed their first drumming session this week.
January 2023 - Science experiment - FRICTION!
The children have been learning about friction. They brought in toy cars from home for this experiment. Which surface is best for racing a toy car? Will the car go faster where there is less friction? We tried lots of different surfaces and recorded the results.
Active Dance Breaks - December 2022
The children love our Active Dance Breaks, when we learn all sorts of different dance routines to wake up our bodies and minds! They are great dancers!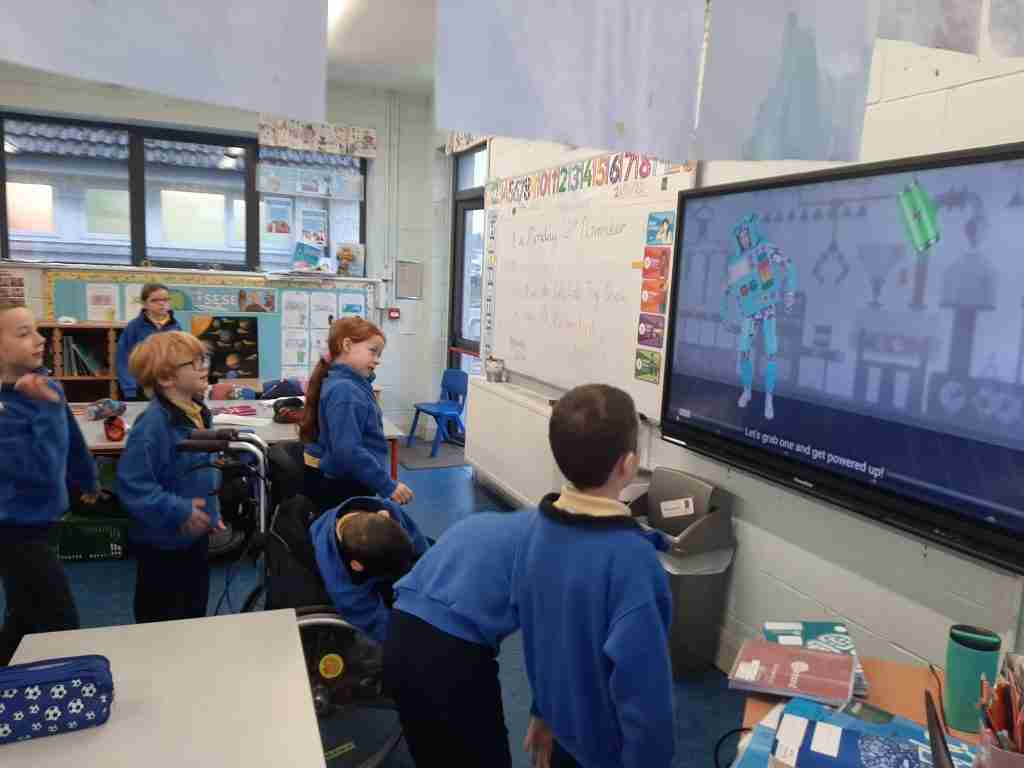 Science Week - November 2022
The children had a brilliant time during Science Week. We did lots of different experiments and talked about our predictions and the results. The children enjoyed the Skittles experiment, where we learnt about how solids dissolve. They also enjoyed making Flying Snakes - the hot air from the toaster rises, making the snakes spin! They also loved making dinosaurs that can walk on water.
Halloween 2022
Don't they look scary! Well done girls and boys on the super scary costumes !
Clay Monsters - October 2022
The class had great fun designing and making their own clay monsters. Don't they look great!
Shape Hunt! 13th October 2022
We have been learning all about the properties of 2D shapes. Today we went on a Shape Hunt around the school grounds. The girls and boys were excellent shape hunters. They found LOTS of shapes, recorded them in a tally and then brought their findings back to class. The most common shapes were circles and rectangles. The least common were ovals and triangles - although one group found a plastic egg, which classed as an oval! Everyone worked hard and had great fun. Well done class!
Clay Monsters - 7th October 2022
We have begun our Halloween art by designing and making clay monsters. The boys and girls really enjoyed using clay to make some very scary looking monsters! We are waiting for the clay to dry before painting our monsters next week.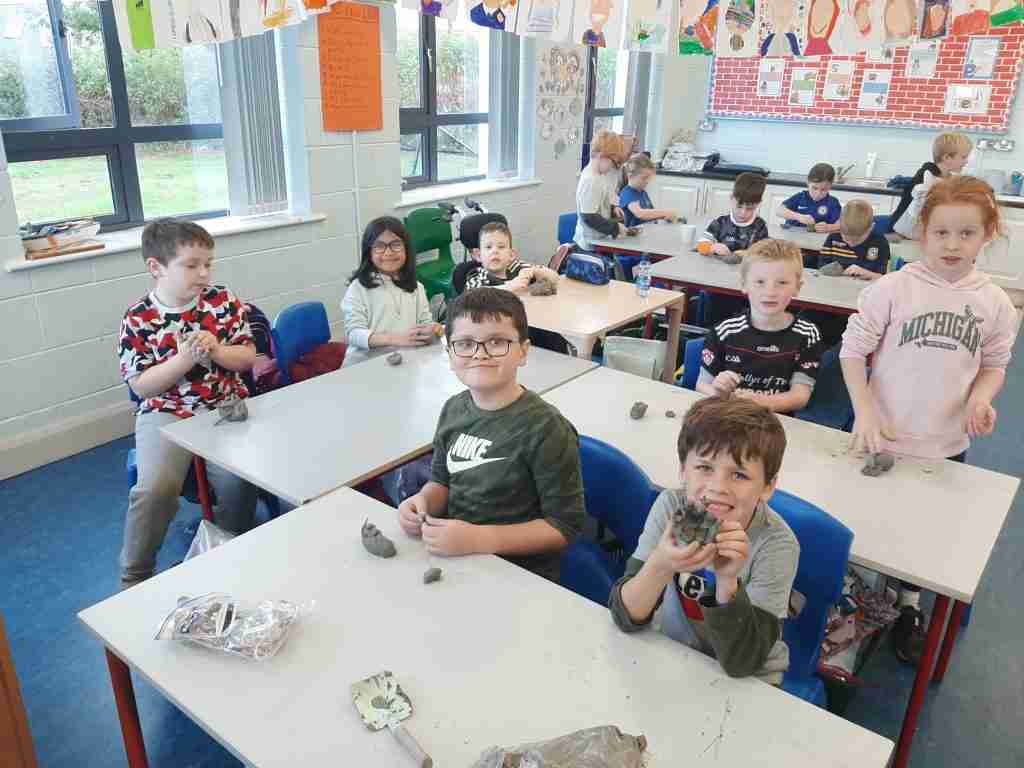 Little Red Riding Hood - September 2022
Each month we explore a traditional fairy tale in English and in Gaeilge. For September we looked at Little Red Riding Hood. The children wrote their own versions of the story, and we listened to the story in English and Irish. We talked about the variations in the story ending - does the wolf eat little red riding hood or not?! The class seemed to prefer the version where Little Red Riding Hood gets eaten!! Thankfully the woodcutter arrives on the scene and she escapes - phew! Here is some of the children's beautiful art work showing Little Red Riding Hood's journey through the Deep Dark Woods, using collage: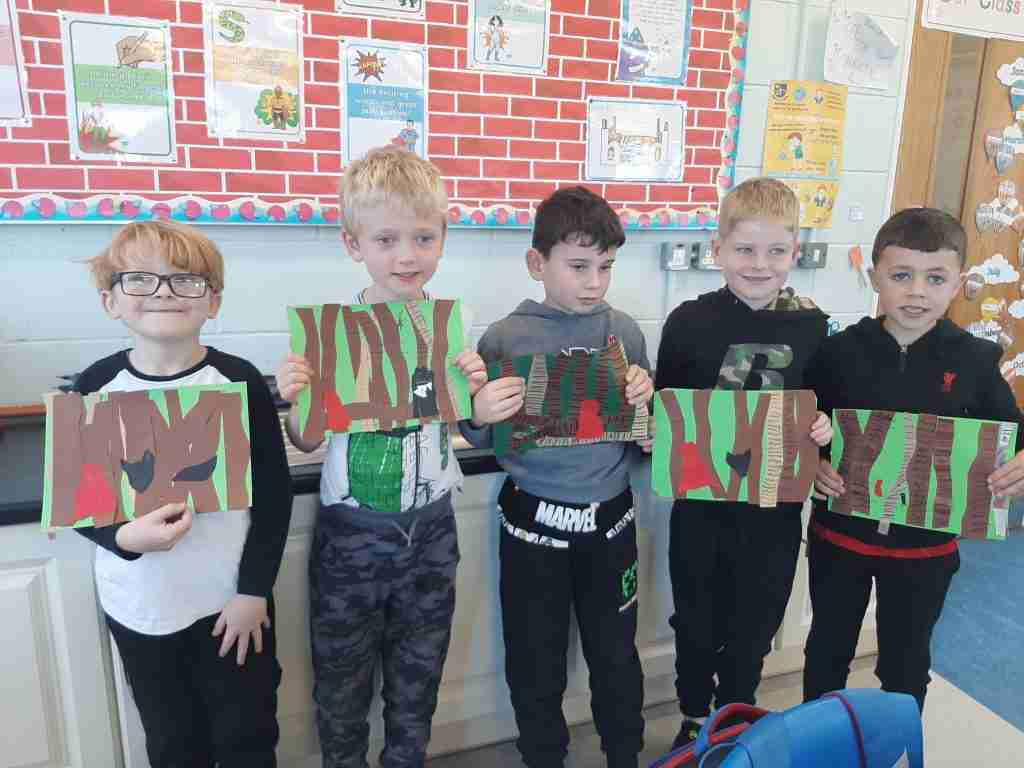 First and Second Class Nativity Play "Magical Christmas Journey"
14th December 2022
First and Second Class have performed their nativity for the rest of the school. Everyone really enjoyed it!! Well done to all the boys and girls. You were all amazing! The parents are in for a treat tomorrow!!