Cycle Safety in 4th and 5th Class
For the past 7 weeks the children in 4th and 5th class have enjoyed learning about cycle safety with Colm and Eoin. They learned how to fit their helmets correctly, ensure their bikes were in correct working order, the rules of the road for cyclists, how to stop safely and much more!
Music Fun!
The children enjoyed performing music using our new musical instruments. Tambourines, maracas, drums and boomwhackers were all used.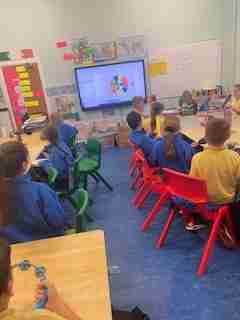 Intel Mini Scientist Competition - 27th October 2022
Fourth and Fifth Class have been very busy preparing their projects for the Intel Mini Scientist Competition. Here they are all set up for the intel Judges to come and judge their projects. Good luck to all the boys and girls in the competition and well done for all your hard work!
Cross Country Trials - Friday, 11th November 2022
Cross Country trials took place in Kilbride National School this morning with Fourth, Fifth and Sixth Class. Well done to all the boys and girls for completing the trials! Congratulations to all the boys and girls who qualified to represent Kilbride National School at the Cross Country on 25th November 2022. Well done to all everyone today!